On 5-7 May 2016, the European University Institute hosted the sixth edition of the State of the Union, a space for high-level reflection on Europe. This year, the discussion revolved around the theme Women in Europe and the World. I was honoured to speak on the panel on Women in Conflict and Peacemaking, hosted by Professor Jennifer Welsh, together with Patricia Sellers, Professor Karin Aggestam, and Elly Schlein (electronic recording). Here is a written copy of my presentation; I have added some hyperlinks to further reading.
SOU2016 | 5 May 2016 | 14:30-16:00 | Women in Conflict and Peacemaking
As Jennifer mentioned, I am a third year PhD researcher here in the Law Department. My background is in international relations and international law, with a particular focus on women's rights and gender justice issues. Before starting my PhD in 2013, I worked for several years with an NGO on gender justice in international criminal law, and I have also more recently spent some time working at the International Criminal Court (ICC) in The Hague. My research here at the EUI focuses on accountability for sexual and gender-based violence in conflict at a national level, and the role the ICC plays from a normative perspective in the Democratic Republic of the Congo (DRC) and in Colombia.
What I want to do in my presentation is move from the international, described so eloquently by Patricia, to the national; I want to shift our perspectives a little bit.
The creation of the ICC was very important for the field of international criminal justice, especially for sexual violence crimes. When the Rome Statute that established this Court entered into force in 2002, this contained the most advanced articulation of sexual and gender-based crimes in international criminal law. The Statute also contains a broad range of other gender sensitive provisions that impact the Court's jurisdiction, procedural mechanism, and institutional capacity. But the ICC cannot be the panacea for justice after conflict; it doesn't have the resources to prosecute anyone anywhere, nor should it. This is reflected in the importance the Rome Statute gives to the role of states and national accountability processes.
When States negotiated the Rome Statute that created this first permanent International Criminal Court, they were reluctant to give away all of their sovereignty to an independent prosecutor with unchecked powers. Previous international tribunals, such as those established by the UN Security Council in the late 1990s following the war in Yugoslavia and the genocide in Rwanda, had primary jurisdiction – they could take cases away from the domestic courts, but most states felt this was OK because they had very restrictive territorial and temporal jurisdiction. But now that states were discussing the establishment of a permanent court with potentially worldwide reach, this made them a little nervous. So the compromise that arose from the negotiations was that the ICC would be a court of "last resort", it is complementary to domestic courts. The ICC can only exercise jurisdiction when a national system is unable or unwilling genuinely to investigate or prosecute war crimes, crimes against humanity, or genocide.
What this means is that essentially, the Rome Statute created not just an international court, but a system of justice that is administered jointly by the ICC and by domestic courts. The international is inextricably linked to the national.
Let me explain this by looking at a specific example from the Democratic Republic of the Congo.
Sexual violence has been notoriously widespread in the protracted armed conflict that has plagued the DRC since 1996 – in 2010, Margot Wallström, then-UN Special Rapporteur on Sexual Violence in Armed Conflict, infamously called the country "the rape capital of the world". Estimates vary widely, but a 2011 study revealed that about 48 women were raped every hour in the DRC, a situation exacerbated by continuing impunity, prevalent social factors of stigma and shame, the continued presence of armed forces, and resistance among police to deal with sexual violence. So it has been incredibly hard to get justice for victims of sexual violence in this context. Nonetheless, some progress has been made by transplanting international legal standards to the national level.
In the DRC, judges have directly applied provisions of the Rome Statute in domestic trials for sexual violence.
Take for instance, the Songo Mboyo case. This case related to an attack on the village of Songo Mboyo in December 2003 by rebel soldiers who pillaged and looted the town as retaliation for not having been paid sufficiently by their commanders. They also raped around 119 women. Three years later, in 2006, the case led to an investigation and trial before a military court.
The military judges in this case recognised the deficiencies of Congolese law around sexual violence. So instead, they relied upon the Rome Statute in finding that rape is a gender-neutral crime also for Congolese law: it can be committed against men and women, and by men and women. They also relied upon the Rome Statute to rule that rape constituted a crime against humanity. This was a much more progressive understanding of rape than existed in Congolese law at the time.
Fast forward about eight years, and the Rome Statute has now repeatedly been used by various military courts as a way of addressing gaps in law or to correct gender biases. In many instances, it has made a tangible difference for victims of sexual violence in terms of access to justice (acknowledging that there remain many ongoing difficulties and challenges, for reasons of time, this presentation focuses on the positive aspects).
A particularly interesting case in this regard is the Minova case. This case relates to mass rape by the Congolese armed forces in the town of Minova in November 2012. When the case came to court in 2014, the military court judges again used the Rome Statute, this time to expand the available protective measures for witnesses of sexual violence. While the Congolese penal procedure code holds that the court shall take all necessary measures to guarantee the security and well-being of its witnesses, it does not specify specific types of protective measures other than the use of closed sessions – this is where testimony is heard behind closed doors, away from the eyes and ears of the public.
Using the provisions of the Rome Statute allowed the court to order a broader range of protective measures for witnesses of sexual violence than was available under Congolese law. But, at the same time, they adapted those international standards to the local context.
What do I mean with that? The ICC, based in The Hague, has very sophisticated technological systems available to shield a witness' identity from the public audience, distorting their image or voice, using screens, etc. (Although, even that can go wrong sometimes!)
The Minova case was heard before so-called "mobile courts". This means the military judges travelled to this remote location (often with significant operational support provided by NGOs and the UN) to hold hearings locally rather than in the courtroom located miles away in bigger towns: this brought the court to the people rather than the people to the court. This often drastically increases the ability for victims and others to witness the trials, which in and of itself can have a cathartic effect. But this also meant that they were holding hearings in locations such as schools, or market places, which are fully exposed to the public.
But when this is your courtroom, how do you protect your witnesses?
Or when this is how your witnesses arrive to court, how do you shield their identities from the public and their community?
The DRC courts adapted (translated) the Rome Statute to the local context by requiring witnesses appearing before the court to be veiled, and wear wigs or sunglasses. At times, they were also allowed to give testimony remotely, or behind a curtain, with a microphone to avoid having to directly confront the alleged perpetrators or be seen by the public.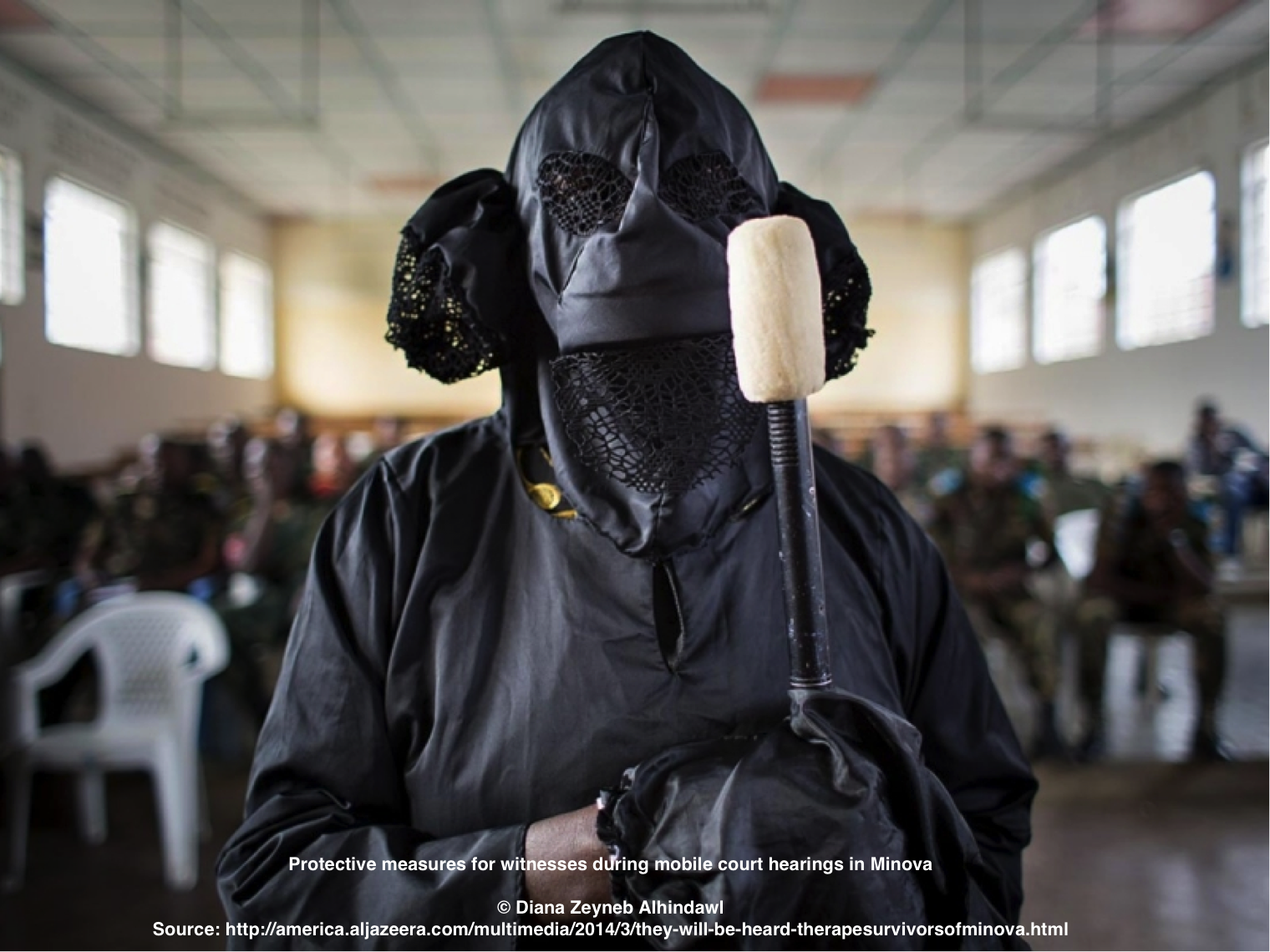 This was of course incredibly creative, and in many ways facilitated victims' ability to come forward and testify. And this creativity was critical – you need judges and lawyers who are willing to be creative and think through how an international standard could work at a national level. It also creates a sense of local ownership of the process, and makes it easier for such practices to "stick", which is ultimately what you want in trying to improve national processes – it has to become part of national practices and not be seen as imposed from above.
And, perhaps even more importantly, these processes of harmonising national legal practices with international standards opened up a space for talking about sexual violence that did not exist before.
What we see in the DRC, then, is the Rome Statute transforming from a document establishing an international court to something more akin to a human rights convention, whereby states are held accountable for the extent to which they harmonise national laws, policies, and practices with this international standard. The ICC is expanding in all kinds of different ways we would not have expected when the court was first created.
But this blanket reliance on the Rome Statute is not an unmitigated good.
Notably, this move to bring the national legal framework in line with international criminal law standards has created a somewhat artificial distinction between sexual violence crimes as international crimes, committed in times of unrest or conflict and to which these new and improved standards apply, and so-called 'normal' sexual violence committed in times of so-called 'peace'. It risks downplaying 'ordinary' gendered and sexual harms. The advancements around protective measures, definitions of crimes, and generally the high attention being paid to sexual violence as a war crime and crime against humanity in the DRC hasn't translated into the same kind of attention for sexual violence as a phenomenon itself. Yet, while the majority of sexual violence crimes are militarised, at the same time, research has shown that this situation of pervasive sexual violence has resulted in a dramatic increase in these crimes committed by civilians, including intimate partner violence. This suggests a normalisation or trivialisation of rape. Such ordinary rape is not addressed through the military court system, which is where all resources have been poured into.
In that sense, it's important to remember that transitional justice processes don't happen in a vacuum. International criminal law cannot be applied in the abstract, particularly not at a national level. It is of course very important to address sexual violence as an international crime, because this recognises the context in which they occur. But for such processes at a national level to have that real transformative impact that we would ideally want it to have, we must pay particular attention to how these processes are integrated in broader politics of transitional justice, for instance reparations and truth-telling, and how they relate to broader questions of structural inequalities that enable an environment in which sexual violence has become normalised, accepted.
The emphasis through the ICC and the Rome Statute in the DRC has been heavily skewed towards criminal justice. The kinds of integrations of international standards in national court practices described in this presentation are of course important, but they only represent first steps towards successfully navigating the complex terrain that is a post-conflict situation.